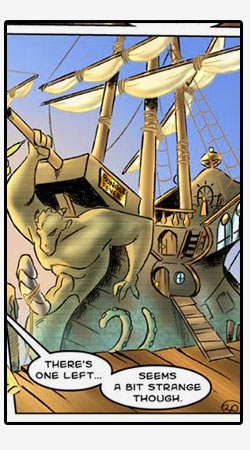 Bunglefever
The Bunglelfever is indeed a peculiar ship. Very quick and easy to maneuver, it takes about 12 seamen (Alma's golems in this case). It may seem a common Brigantine at first sight but hides many trapdoors full of hidden weapons, many more than the usual 10 cannons a brigantine carries; this impressive arsenal is decisive for assaults and to battle against ships of its same size, and maybe more.
Alma knows it very well and takes great care of every detail to be sure everything is perfectly functional: from oiling every trapdoor gear to every wooden surface, frequently repainted with a protective coat. Her golems are instructed to fix everything periodically indeed.
The must peculiar detail is the male figurehead: a triton hidding a sharp nib, a scary rostrum weapon that can hook another ship easing the assault causing severe damage too.
We don't know much about the Bunglefever, just the necessary Alma shows but be sure it has many hidden secrets...