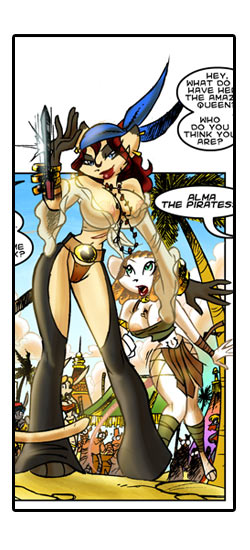 Alma
Piratess, totally cynical. The whole world is to her a merry-go-round to have fun with. She likes to take whatever she likes whenever she wants to. She hides her pirate identity depending on where her ship is docked. In some places indeed pirates are hunted outlaws, in some other less recommendable places pirates are outlaws but kinda tolerated and they can count on a certain tolerance.
The crew is all made by Wooden Golems, due to the Alma's nasty temper.
She's fearless, capable of assault and conquer alone a small ship, thanks to her tactics and most of all, to the
formidable equipment of her ship, the Bunglefever (manouvred by her golems) scaring her unlucky preys.
She's good with knives but really bad at rapiers. She can handle all the heavy weapons on her ship and she's also
good with explosives.