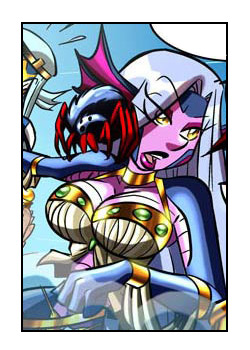 Noresse of the Ice Dragons
Noresse is a powerful dragoness of the highest lineage, descending from a very influent clan of the Ice Dragons. We first meet her in The Quest for Fun # 7 when she joins Alma Scyra and Zandria in their quest. She is not really a good enchantress, but please, don't tell her! Travelling with the girls she hopes to improve her abilities and travel the world. She is a bit spoiled, as you can imagine. Will the hard life of the adventurer fit her and teach her something?

She travels also with her familii, a kinda large spider named Fluffy. Despite the look Fluffy is very sweet and friendly with all the girls. Alma is scared to death by all spideres and by him, can't stand the mere presence...