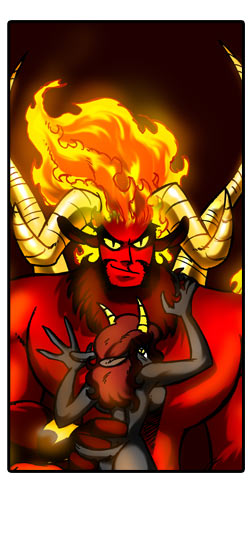 Korgoroth
Korgoroth is a nasty demon who lives in the Netherworld. Don't expect mercy, kindness or any kind of feeling from him, he's bad to the bone, violent, lustful and cruel.
Fortunately he can't walk on Earth but he is oftern summoned by Bloodrose inside a fire mystical penctacle.
The reason for the summonings is just one: gain magical power. But she pays an high price for it, her eternal soul and her pride: the demon asks her complete submission in exchange, and seem to have a lot of fun fucking Bloodrose deeply and in the rudest way; but after all she keeps on summoning him on and on to ask power, so we can guess she don't cares about the costs...